Swimwear and Watersports Clothing
There is much more to swimwear and watersports clothes than bikinis, shorts and heavy oilskins

.

Today you have a wide choice with many names and terms for similar garments, depending on their intended use. We hope to clarify this a bit.
Partner Look Swimwear
The trend is for both men and women to cover up more and stay safe from sunburn and jellyfish stings. Korean fashion designers spotted this and created matching swimwear for him and her. Separate sets consisting of leggings, swim shirt, jacket, and skirt or shorts, are now what sophisticated people wear on the beach and in the pool. You can combine the different items in many ways for beach, pool, or water sports.

Swimwear Colour Warning
While blue is a popular color for swimwear, it may be noteworthy that light blue swimwear makes you almost invisible to the lifeguards and other swimmers. In swimming pools pale blue clothing is effectively camouflage. You just fade into the background.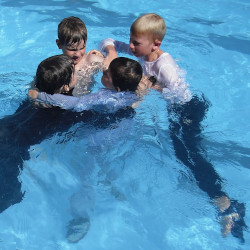 The kid in the pale blue clothes is almost invisible. This could be a safety risk.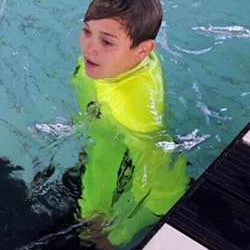 Swimwear in bright colours keeps you visible to other swimmers and the lifeguards.
Test Reviews
On this website you'll find tests and reviews of a wide variety of swimwear, waterwear, and travel reports. Our keen swimmers will check out any kit we get our hands on and write a review with links to suppliers.
First Look
When we see an interesting new product we write a brief report for our readers, either as part of an article or on a page of its own. This might happen at a shop, a trade show, or some other event.
Full Reviews
Whenever we get our hands on new swimwear we test it under realistic conditions for a detailed full review. These get updated over time after we've used the samples for a while.
First we try the products in the pool to see how they fit and feel to check how comfortable a swimsuit really is. Next we see how it performs during watersports like canoeing, sailing, or surfing, and how good the design is for readers who really enjoy watersports, rather than wear it as a fashion statement.
Manufacturers: Promote !
If you're a manufacturer or supplier of swimming clothes or watersport accessories, send us products for review. You get publicity on a busy website for the cost of a product sample. Reviews carry a clickable link to the supplier's website so our readers can order the products we've reviewed. If a supplier provides more than one item, they get a dedicated section with a company profile.
Affiliate Partnerships
When we come across really good products, we like to share them with our readers who come here to find the best and most original swimwear. If you run an affiliate program, talk to us.