Cagoules
A cagoule (French: [kaɡul]), also spelled cagoul, kagoule or kagool, is the British English term for a long weatherproof raincoat or anorak with a hood.
Marketed as a handy fashion accessory, cagoules became very popular in the United Kingdom during the 1970s.
Design
Cagoules are lightweight (usually without lining) and often come in knee-length form. The fabric is often an Oxford nylon which is waterproofed with polyurethane, and the seams are taped.
As a functional outdoor rain garment, the loose fit styling and proportions allow your small items of personal luggage to be protected, like a rucksack, waist bag and/or camera bag. It is sized to fit over everything, including your pack. In an emergency it can even be used as a bivi shelter.
The hood has one draw cord around the face which reduces water coming in. Another draw cord or velcro strip may go across the back of the head to reduce the overall size of the hood for a better fit. There is a drawcord at the base of the garment, so you can pull it up and tie around the waist for better leg movement.
Some cagoules have a pouch pocket in the chest area. When rolled up, the hood or front pocket doubles as a bag into which the cagoule can be packed.
This is as close to the ultimate in rain protection that you can get. It also provides excellent cover when worn on a boat or the beach. Swimming is easy in a cagoule, as many of our readers have told us.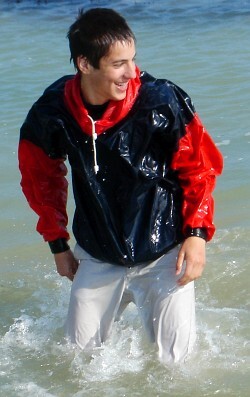 Canoeing cags keep open water swimmers warm, avoid windchill.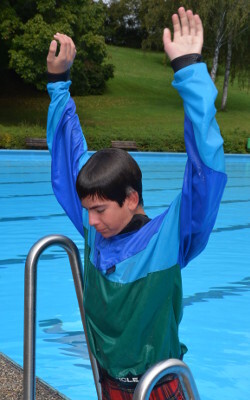 Canoeing cag for pool training is easy to swim in.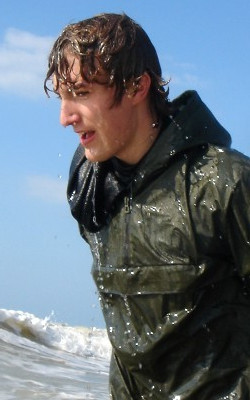 Knee length cagoules provide better cover on adventures.